Stone countertops can be refinished on location. We are referred by Jacksonville's finest stone fabricators to complete these repairs. Stone fabricators will often require the granite or marble tops be uninstalled and returned to the shop to be refinished. The risk in this process is that the counter tops could be broken or scratched during this process.
Restoration by Fabric & Tile Masters can refinish marble and granite counter tops in your home with out the risk of damaging the stone counter tops. We have several fabricators here in Jacksonville that refer us to their customers to see to these projects.
Refinishing granite and marble counter tops is necessary when the stone becomes worn from scratches and chemicals. Acids common in many household cleaners can cause permanent etch marks.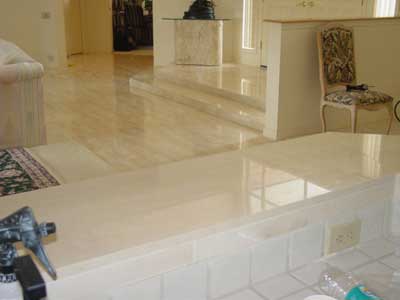 Refinishing stone counters is accomplished by using abrasive diamond disk. These disk are used in a low to high grit progression. The starting point grit level (how low do you need to go) depends on the depth of the scratch or how deeply the acid etches the stone.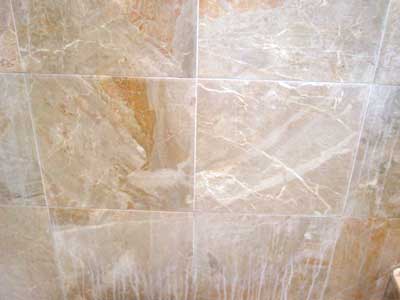 Restoration by Fabric & Tile Masters is expert in refinishing all stone surfaces including vertical surfaces from in shower walls. Stone counters and walls are either polished or hone finish. We can work with you to decide which is best for you.